Puzzle of the day: Thank you Hns Slitherlink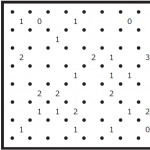 Recently more puzzle authors are contributing puzzles for our website. This gives our founder, Hns, the opportunity to focus on other activities for WCPN. Hns has done the coordinating and graphics for nearly five years for us and now hands this task over to the rest of the team.
Saskia Benedictus is our newest puzzle designer. Her first creation is a special one to say 'thank you' to Hns for all his efforts for the association. 2033 HNS Slitherlink SB 4 29-09-18
Due to the changes, the puzzles on the website will have a slightly different look starting on the 1st of October.