Education (onderwijs)
Welkom bij de Nederlandse puzzelvereniging WCPN. We proberen het Nederlandse publiek te enthousiasmeren voor logische puzzels.
Op deze pagina vind je dezelfde puzzelvarianten als op de jaarkalender 2016 – 2017 van de CAOP, maar dan een beetje pittiger. We wensen je daarmee veel succes en plezier. Mocht je er vragen over hebben, dan kun je altijd terecht bij de vereniging. Het mail-adres vind je onder 'contact'. Op onze homepage staan nog veel meer logische puzzels met een heel grote diversiteit; ook heel andere soorten dan op de kalender. Uiteraard ben je van harte welkom om die ook op te lossen; ze zijn vrij beschikbaar voor iedereen en er is elke werkdag een nieuwe handgemaakte puzzel te vinden. Ze zijn in het algemeen (flink) lastiger dan de puzzels op deze pagina.

On this page you will find examples of six puzzle types that are published on a 2016-2017 calender that is distributed among teachers and staff of preliminary schools in the Netherlands.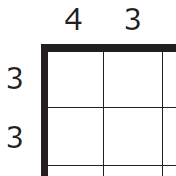 Sudoku special – sudoku speciaal